keidas polar oasis

scroll down for english version
Finnland 2011/2012
Eine Strandszenerie taucht wie eine Fata Morgana im tiefverschneiten, nördlichen Finnland Ende Februar auf der Hailuoto Iceroad mitten auf dem zugefrorenen, offenen Meer wie aus dem Nichts auf. Hier, an einem der kältesten Orte Europas, scheint einem beim schemenhaften Anblick von Palmen, Schirmen und Badegästen die Kälte die Sinne zu vernebeln.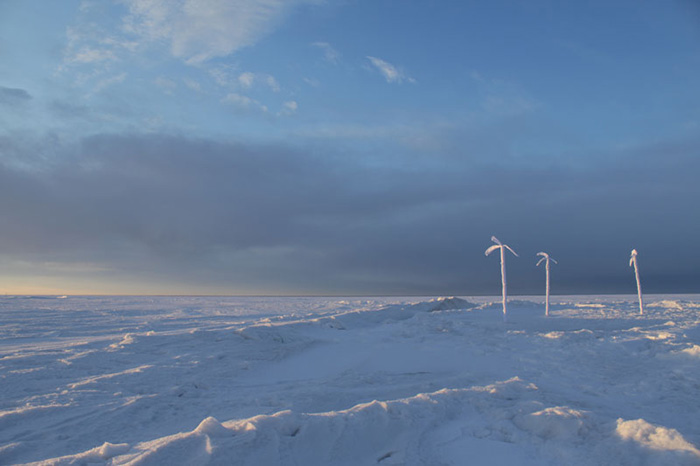 Doch bei Annäherung wird es immer deutlicher, dass es sich hier nicht um eine Luftspiegelung, sondern vielmehr um eine künstliche Täuschung handelt, eine Installation stofflicher Natur. Stofflich im wahrsten Sinne des Wortes, denn die einzelnen Objekte bestehen aus nichts anderem als aus schneeweißen Saunahandtüchern, mit Wasser besprüht und durch die extreme Kälte zur Skulptur erstarrt. Weiß auf weiß lautet also die Farbkomposition zunächst, so dass bei entsprechendem Licht die Installation durch seine winterliche Umgebung assimiliert wird.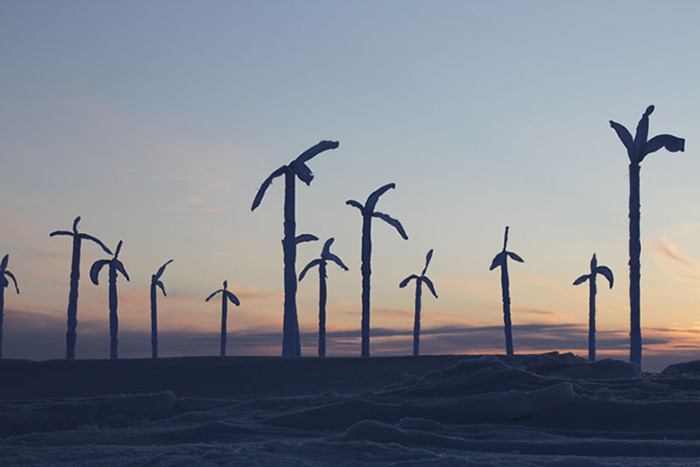 2012 wird die Oase greifbarer, performativer, die Objekte körperhafter, ein Palmenwald ensteht, der zum Verweilen und Flanieren einlädt. Beide Installationen haben paradoxerweise unter ungewöhnlich hohen Temperaturen zu leiden.
Mehr unter www.keidas.org
Katalog

A beach-scenery appears like a fata morgana on the snow-covered, frozen surface of the Hailuoto Iceroad on the Northern Bottnic Sea in Finland at the end of February. Here, at one of Europe's coldest locations coldness seems to play tricks on your senses regarding the unreal appearance of palm trees, parasols and bathers. However, approaching will make more and more obvious, that there won't be any mirage, but rather an artificial illusion, namely a substantial installation.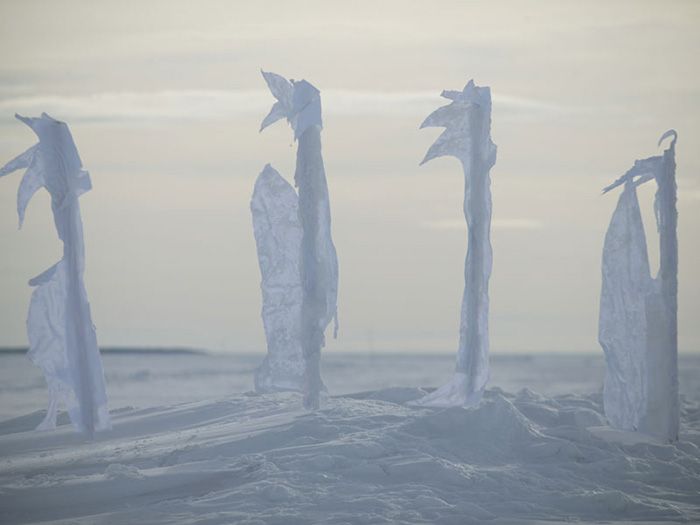 Substantially in the truest sense of the word, because each particular object is made of nothing else but snow-white sauna towels soaked by water which lets them freeze to sculptures because of the extreme coldness. Being the composition of colors "white on white" the installation could sometimes get assimilated by the hibernal environment according to the lighting conditions.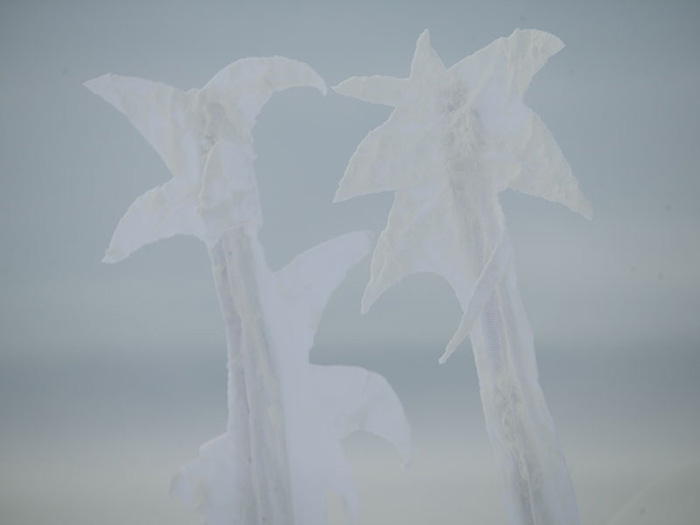 2012 the oasis is getting more figurative, performative, the objects become more solid, creating a palm tree forest inviting for staying or promenading. Both installations had to suffer paradoxically from unsual high temperatures.
Further information under www.keidas.org
Katalog